The third hero in F-3 ?
F-2 was one of Tollywood's biggest hits last year. Dil Raju's medium budget film, directed by Anil Ravipudi as the heroes of Victory Venkatesh and Varun Tej, made a total of Rs 80 crore in the film. Anil, along with producer Dil Raju, announced the sequel.
It is also confirmed that this will be the film which will be released soon. In response to a recent PM Modi call, the task of lighting lights was addressed by a team of F-3 writers. Everything about him working on the F-3 has already been finalized. As part of an interview recently, Anil said about F-3.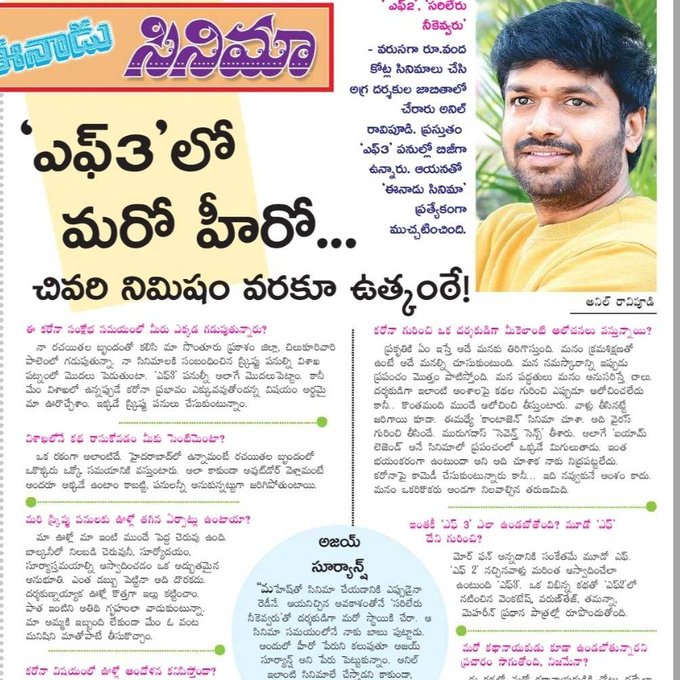 Anil has revealed that he is working on the Kalisi F-3 with the new Writing Team in Chilakurivaripalle, the home town of Prakasam. If you ask how the film is going, why are there more signs of Third F. The film is going to be fun for those who love F-2.
We are doing this movie with a different story. Tamanna and Mehreen are in the cast along with Venkatesh and Varun Tej. Anil says that this time the story is about a different theme than the wedding..
https://www.cinemarascals.com/feeds/posts/default?alt=rss